As you are reading this, we can imagine that you must have heard about the boons and shortcomings of online Education.
You could have listened to a complaining parent who is tired of the lapses of the video conferencing solution used for the Online classes by schools and teachers.
Online Education is becoming a lifestyle currently. But the inconveniences related to Online Education is also a matter of debate.
What do the reports say?
We all know that one of the major reasons for the sudden increase in using online as a medium for education is the impact of the CoVid crisis.
We were forced to lock ourselves at home to save ourselves from the impending peril.
But, a report says that even if the lockdown situations get reversed, 33% of school administrators will continue to offer both remote and online course options even after their campuses have reopened and normal operations resumed. (Source: Education Data)
The issues with online learning are changing every day. 20% of college students registered that it has been a great challenge for them to find a quiet place for online instruction.
42% of students say that completing coursework online was a major problem for them. Another major difficulty recorded is the poor quality and limited features in the tool(software) used.
The real limitations of Online Education
While interviewing the teachers who conduct online classes using some popular portals, they reported that the Application management is a bit confusing and taking control of the situation while some students behave improperly while conducting the classes makes the session more complicated.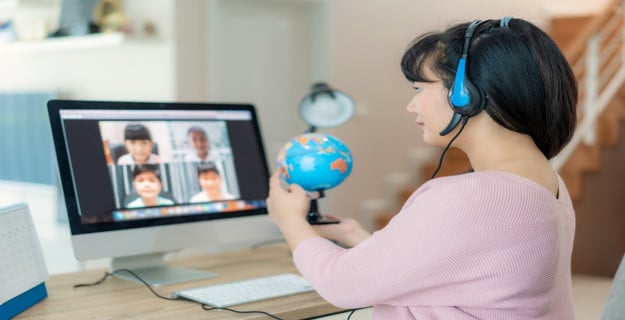 When the Livebox conferencing solution was introduced to them wherein the teacher enjoys complete control over the software, they reported that such moderator control management is highly imperative to conduct online classes.
While we interviewed a few school administrators about using our latest launch, the Classroom Studio Kit, which is specially designed for schools and educational institutions who are looking for an all-in-one kit to conduct online classes more professionally, they found the kit more affordable and extremely advantageous.
Utilization of Augmented and Virtual reality
Grabbing the attention of the students is made much easier with the employment of Augmented and virtual reality in education.
But these kinds of experiences become a complete failure when the speed of the Internet is not up to the expectation. Such disadvantages can be overcome when using INSTANET.
What happens to the children who do not have a reliable Internet to attend online classes?
It is true that students who are located in remote areas may or may not have reliable Internet connectivity.
A study says that 15% of students in Western Europe and North America are without internet while 22% of parents indicated their child would have to use public wi-fi to attend online classes because there is no reliable internet at home.
How will these children attend their classes without interruption?
Livebox Phoneline Integration is ideal for connecting with these children who have fluctuating Internet connectivity or with no Internet at all.
These children can call the Toll-free number prescribed for the class and they can still connect with the class without the Internet.
What is your opinion?
From the things discussed above, what do you think is the most fascinating thing about Online classes?
What are the other disadvantages while conducting online classes?
Let us know in the comment section below!